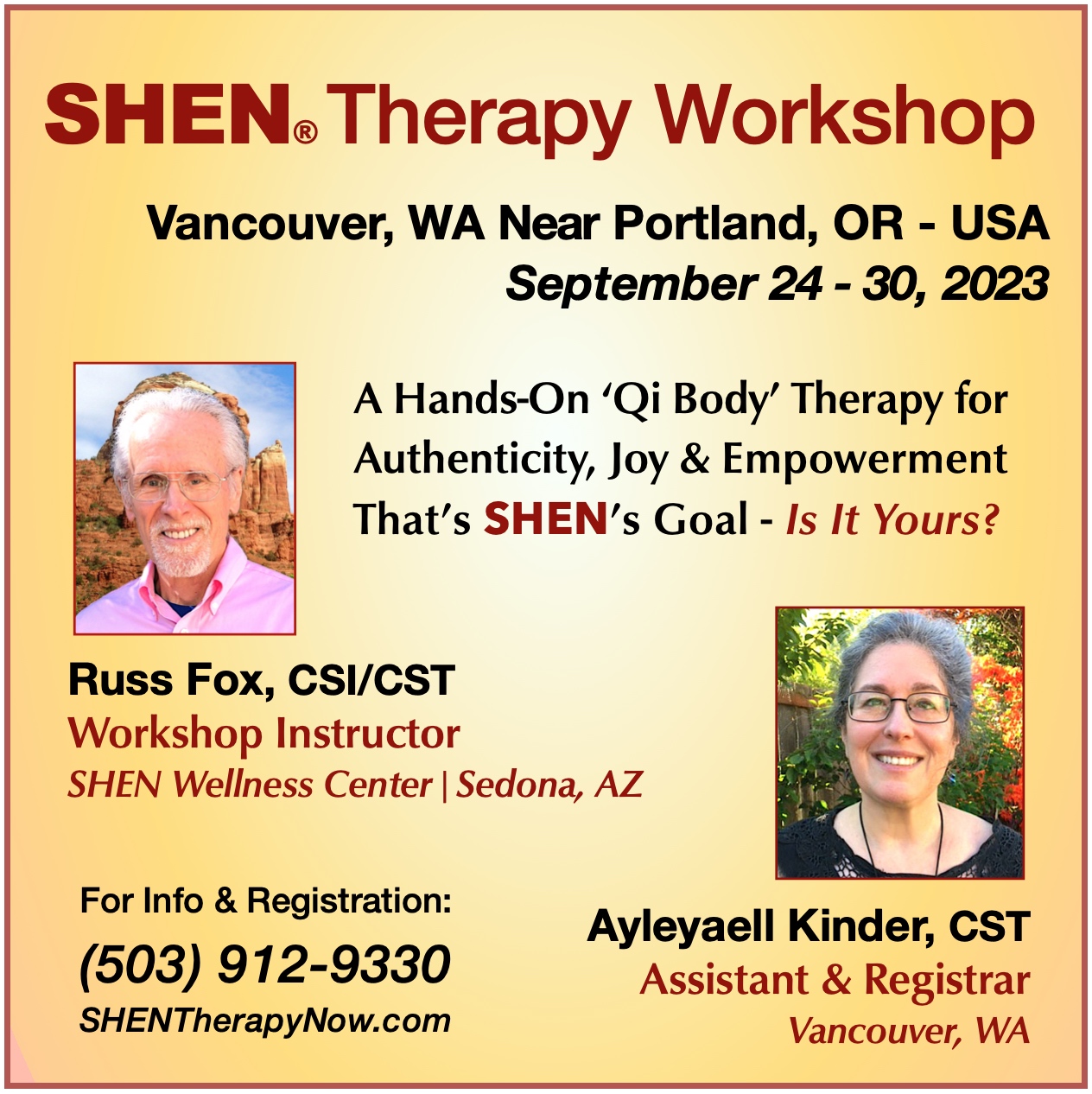 We are excited to announce that a SHEN Therapy Personal Empowerment Workshop will be held in Vancouver, Washington, in the Portland, Oregon area, September 24-30, 2023.  This in-person SHEN Training will be held at a location 15 minutes North of Portland, Oregon.
The Instructor for this 7-day, full-immersion SHEN Workshop is Russell Fox, CST/CSI, with Ayleyaell Kinder, CST as Workshop Registrar & Assistant. Feel free to contact them as follows:
Instructor: Russell Fox, CST/CSI
[email protected]
Registrar:  Ayleyaell Kinder, CST
[email protected]
+1 (503) 912-9330
Join us in the beautiful Pacific Northwest ~ Vancouver, WA
Sunday September 24th thru Saturday September 30th, 2023
Prior to taking the intensive SHEN Therapy Workshop, it is required that all participants receive a MINIMUM of two sessions from a Certified SHEN Therapist or Supervised SHEN Intern. You will gain an even deeper sense of this work if you receive additional sessions prior to your SHEN Workshop experience.
The Daily Schedule will be from 9 AM to 5:30 or 6 PM, with a 90-minute lunch break. Your evenings are free. You are encouraged to begin your days at 8:30 AM joining other class members for some basic Qigong, Yoga and stretching.
The number of participants in each SHEN Workshop is limited to allow for personal attention. Your completed application and your deposit or full payment should be received as soon as possible to guarantee your space.
1) Application Form:
All Attendees are required to complete the SHEN Workshop Application Form. Forward your completed Application to the Workshop Registrar, Ayleyaell Kinder. Full instructions on how to proceed are on the Application Form.
>> Download Your Application Form Here.
2) Workshop Fees:
The 'First-Time Attendee' Fee for this 7-Day SHEN Therapy Workshop is $1250, unchanged since 2016. This fee includes full tuition, all class materials, 50 hours of hands-on instruction & training and the giving & receiving of 16–20 SHEN sessions. 
The 'Returning Attendee' Fee for this 7-Day Intensive SHEN Therapy Workshop is $850.  As above, this fee includes full tuition and all class materials.
3) Workshop Payments:
Secure SHEN Workshop Payments are made via PayPal.
>> Enter SHEN's Payment Portal Here
4) Want More Information About SHEN Therapy?
– Browse through this site using the page links above.
– Download this article: 'The Role of Emotion in Your Health & Recovery'
---
We look forward to your joining us in Vancouver, Washington for the first SHEN Therapy Workshop to be held in this region of the beautiful Pacific Northwest!
---