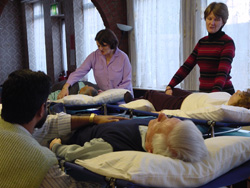 For those wishing to further their own growth, and/or learn more about the process and art of giving SHEN Therapy…
---
SHEN Therapy Workshops
SHEN Empowerment & Training Workshops are offered in two formats:
A 7-Day Intensive, and a divided Levels "A" & "B" – 4 days each. With both formats your evenings are free.
These workshops are highly experiential, and are designed to assist you in your own emotional unfolding and personal reintegration. Participation in these workshops is also the first step for those wishing to be trained in SHEN Therapy. During these transformative workshops, you receive at least 20 SHEN sessions under the guidance of a Certified SHEN Instructor/Facilitator, while you also learn SHEN techniques to help yourself and others.
In these workshops, you begin by learning basic SHEN theory, principles and techniques. You continue to expand your personal growth as you receive and give SHEN sessions throughout the workshop. You will find that SHEN theory deepens and clarifies Eastern concepts of chakras and Chinese Wei Qi, as well as complimenting and enhancing psychotherapeutic diagnostic and treatment skills. You will also learn how to use the natural healing potential you carry in your hands.
You do not need special abilities of any sort, nor must you subscribe to any specific spiritual or metaphysical belief system to be successful with SHEN as either a client or practitioner. A willingness to experience your own emotional growth and a desire to expand your knowledge and personal awareness are all that is necessary.
Many professionals take this workshop to learn SHEN techniques and integrate them into their primary practice. Although SHEN has consistently been used to excellent effect as a stand-alone principal therapy itself, SHEN techniques can effectively be incorporated into other modalities to accelerate the therapeutic healing process.
If you are a Health Care Professional, being able to work directly with emotions inside the body will be of immense benefit to your clients. If you are a psychologist or counselor, you will find that SHEN techniques accelerate your clients through impasse or crisis, help them get productively in touch with their emotions, and dramatically change Post Traumatic Stress Disorders into PAST traumatic stress. If you are a nurse, body worker or Hospice worker, non-invasive hands-on SHEN techniques will quickly relax and help both adults and children who are in fear and suffering connected with emotionally impacted physical conditions.
Prior to taking the intensive SHEN Therapy Workshop, it is required that all participants receive a MINIMUM of two sessions from a Certified SHEN Therapist or Supervised SHEN Intern. You will gain a much greater sense of this work if you receive three or more sessions prior to your workshop experience.
Because the number of participants in each SHEN Workshop is limited to allow for personal attention, your application and your deposit or full payment should be received as soon as possible to guarantee your space.
Workshop Fees
The current fee for the full 7-Day Intensive 'non-residential' SHEN Personal Empowerment & Training Workshops is $1250. If full payment is received anytime up to 3 weeks prior to the workshop, this fee is reduced to $995.
'Residential' SHEN Workshops are held at fully-vetted retreat centers. Fees for residential SHEN Workshops include options for either single- or double-occupancy lodging, all meals, full tuition and all class materials.
In the divided Level "A" & "B" format each level is $675. If full payment is received anytime up to 3 weeks prior to the workshop, the fee is reduced to $575.
You are always welcome to repeat the SHEN Emotional Empowerment Workshop subject to space availability. Returning attendees, please check the 'Upcoming Workshops' page or contact the Workshop Registrar for a reduced 'repeaters' fee.
For a full current schedule of SHEN Therapy Workshops in the USA and abroad, visit the website of The SHEN Therapy Institute. Once again, a live link is on our 'Contacts & Articles' page.
                                          –––––––––––––     ❖    –––––––––––––